Philippe Danti was born in 1955 in Marseilles. He likes to describe himself as self-taught in "the art of the paintbrush". While serving as an engineer officer in the merchant marine, Philippe discovered Lyrical Abstraction, a style of painting that emerged in Paris in the 1950s and which was similar to Abstract Expressionism. Today, unaffiliated with any school or group, he continues his artistic journey, following the theme which runs through all of his work: a profound desire for freedom.
He was only eight when he started taking drawing courses, later going on to learn modeling and sculpture. For his family, art was never a major priority and was mainly considered a simple pastime. However his father, an engineer, was a good draftsman and he used this skill in his technical drawing. His mother, meanwhile, had to wait until the age of 50 before deciding to paint.
Philippe satisfied his passion for drawing by taking courses — but only when he could make time during his extensive travels as a merchant marine, which kept him busy for twenty years. As an engineer officer on a freighter, drawing courses were a pragmatic way for him to maintain a kind of unconscious connection to the art world from which he was professionally and personally isolated.
Over the years, Philippe mastered the basic power and energy of drawing. Early on, his work was striking for its lack of colour, an expression of the importance he placed on line and movement over all other aspects of his art. It was by chance, while leafing through the catalogue of a Parisian exhibition of the painter Zao Wou Ki, that he really discovered colour for the first time. "I was growing tired of drawing and its academicism," Philippe recalls.
"So when I saw the paintings of Zao Wou Ki, a well-known master of Lyrical Abstraction, it was like a breath of fresh air. It influenced my art, even my life". "This encounter with Zao Wou Ki's paintings, combined with the fact that I had to stop working because of problems with my health, helped me very much. I was now free to create, to go further, to work on the shades of colours, to explore the symbolism of each tint". "Since then, I've used only three colours: blue, yellow and red. I try not to mix the colours in order to preserve the maximum intensity of light in my paintings and to master the effects I can produce with it".
Because he has such a unique perception of light and an almost mystical approach to how he uses it in his painting, Philippe is obliged to create his own techniques — his own rituals, in fact. "I can only start to create when the studio is tidy and I am clean. Then I need a period of contemplation, some silence before I put myself in danger … and begin working. I love the magic of creation because it gives you the feeling that you can pass from one state to another".
After 40 years of continual development, Philippe's paintings brilliantly combine a masterly use of colour with the lively strength and spontaneity of drawing which has always formed the basis of his work. "I can still see the brightness of the sun, the sharp character of the contrasts in the Provence of my childhood" Philippe remembers. This evocation of Provence is quite fitting: like a sudden mistral wind, Philippe Danti's art confronts us with great force, quickly upsetting all of our most comfortable certainties!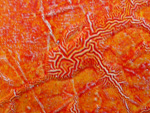 Baba Squaaly